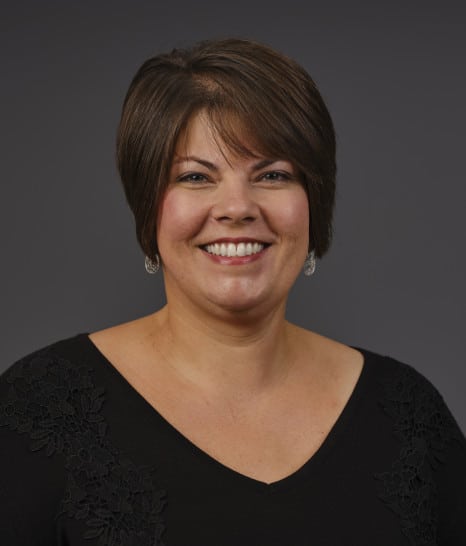 Tracy Sullivan,
M.A., CCC-A
Licensed Audiologist
Tracy received both her Bachelor of Arts in Communicative Sciences and Disorders and her Master of Arts in Audiology from the University of Northern Iowa in Cedar Falls. Her clinical fellowship year was spent at Nelson Hearing Aid Service with our clinic's founder, Dr. R. David Nelson. Her fellowship focused on diagnostic testing, hearing aid fittings and hearing aid repairs. Tracy holds her Certificate of Clinical Competence in Audiology (CCC-A) from the American Speech-Language-Hearing Association and is a member of the Iowa Hearing Association.
Tracy Sullivan has more than two decades of experience in the field and is our clinic's most experienced audiologist. She specializes in adult diagnostic hearing testing and hearing aid fittings. Tracy's patients appreciate her detailed care and easygoing nature. Tracy enjoys getting to know her patients on a personal level. "Keeping up with all the latest hearing aid technology is really interesting, but my favorite part of my work is really my patients. Helping them brings me a lot of joy." She was recently voted as Iowa's "Hearing Aid Specialist of the Year" by a group of her peers. Tracy was honored to receive this award, which recognizes that service and patient care is what separates her from many others in the hearing care industry. Tracy sees patients in our Le Mars and Sheldon clinics.
Tracy has lived in Le Mars for over 20 years with her husband, Toby, and two daughters, Anna and Mary. Her favorite part of the day is her quiet time in the morning, watching the sunrise and drinking coffee. Tracy loves riding motorcycles and is an avid gardener.
Hometown: Radcliffe, Iowa
Favorite sports team: Chicago Cubs and Iowa State Cyclones
Favorite snack: Peanut M&M's
First job: Riding beans as a kid
First concert: Alabama at the Iowa State Fair
Favorite show to binge-watch: "Downton Abbey"
Favorite book: "The Nightingale" by Kristin Hannah
Favorite way to spend time outside work: Playing golf
How do you take your coffee: With French vanilla creamer
Bucket list item: Traveling to all the National Parks
Something we don't know about you: I was a varsity golfer all four years in high school!
Favorite sound: A crackling fire